Tailor-made for youthful pioneers, the Reno 10x Zoom is expected to empower users with its stylish appearance and innovative design. It is meant to replace the F-line of smartphones and boasts a brand-new product concept, design philosophy, and communication model.
"It's tailor-made for youthful pioneers who are dream chasers and those who express themselves to create new trends. With this new "Reno" series, OPPO aims to inspire expression and creativity of youthful pioneers through the unique experience of Reno," says OPPO Kenya Communications Manager Muthoni Wachira.
Reno sells in two variants; the ordinary Reno and the Reno 10x.
They both have the same screen resolutions at 1080 by 2340 pixels but different screen sizes. Reno's display stretches to 6.4 inches, and the 10x takes it further to 6.6 inches. They have two memory configurations at 6/8GB of RAM and 128/256 GB of internal memory.
Both models have been equipped with an in-display fingerprint sensor. They have batteries of 3765 mAh and 4065 mAh in the Reno and 10x Zoom respectively.
Despite having a difference in number of cameras and megapixels i.e. a dual 48 MP and 5 MP setup for the Reno against a triple setup with 13 MP periscope lens for 5x optical zoom and 10x hybrid zoom alongside an 8 MP ultrawide angle lens and the famous 48 MP module, they maintain the 16 MP shark fin pop-up selfie camera.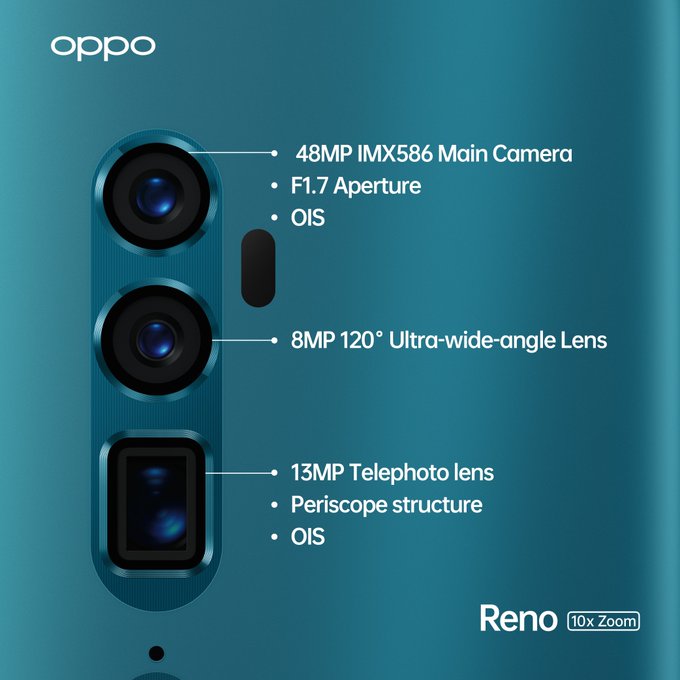 Lastly, the Reno runs S710, Qualcomm's newest upper mid-range chip against the S855 in the 10x. These are very capable CPUs and day to day performance.
The company has announced that it will open pre-orders for the device on 23rd of July and will stay open up until the 28th. It is priced at KES 90,000. There after, the device should be available in local stores at more or less the same price.